Technology
Intel Makes Thunderbolt 5 Official With up to 120Gbps Bandwidth, 240W Charging, and More
Intel collaborated with Apple to introduce the Thunderbolt connectivity standard in 2011. It is well-known for delivering faster data transfer speeds and supporting different devices including high-resolution displays. It has evolved over the years through numerous improvements and has now received its latest upgrade. Thunderbolt 5 has been made official as the newest iteration packed with improvements to bandwidth, charging speeds, connections, and more.
Thunderbolt 5 vs Thunderbolt 4: What's the difference?
Thunderbolt 5 is claimed to deliver up to 120Gbps bandwidth which is 3X more than Thuderbolt 4. This increased bandwidth is available only when used with Bandwidth Boost. It will be useful in certain situations like when connecting high-resolution displays. It offers up to 80Gbps bi-directional bandwidth during standard usage which is still 2X more bandwidth than the predecessor.
Intel has continued with the USB Type-C interface for Thunderbolt 5. It is built on USB4 V2, DisplayPort 2.1, and PCI Express Gen 4 standards. The good thing there is full compatibility with previous versions too. The team worked closely with Microsoft to bring the USB4 standard to Windows users.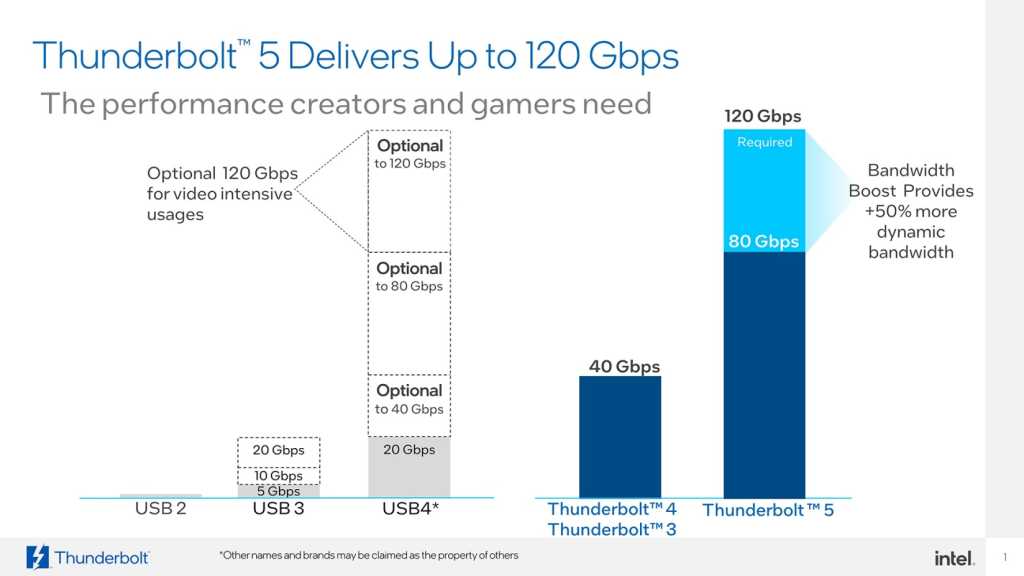 The latest generation Thunderbolt standard can support up to three 4K displays with 144Hz refresh rate. This was limited to two 4K displays at just 60Hz refresh rate previously. It can even support multiple 8K displays which will be beneficial for professionals and creators. There is good news for gamers too as Thunderbolt 5 can support panels with up to 540Hz refresh rate.
It further supports up to 240W charging speeds which is another benefit for users engaging in power-hungry tasks on their machines. It will be up to laptop OEMs whether they want to implement such high charging speed support but the minimum charging speed support is 140W.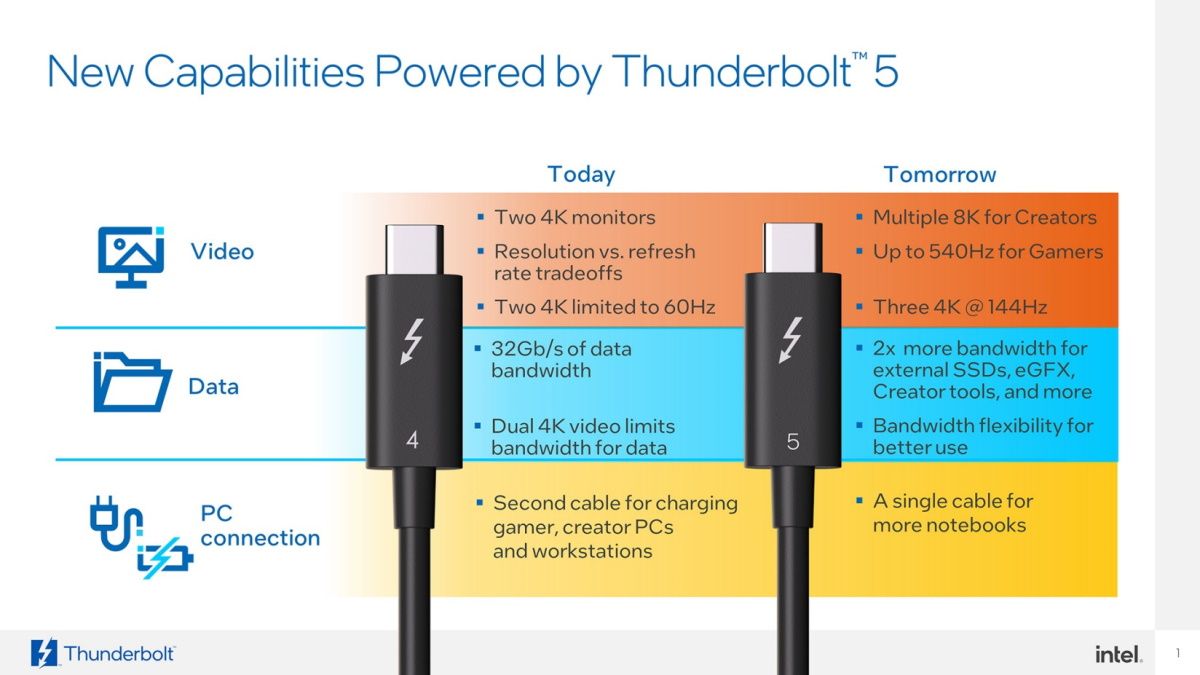 Jason Ziller, General Manager of the Client Connectivity Division at Intel said, "Thunderbolt 5 will provide industry-leading performance and capability for connecting computers to monitors, docks, storage and more. Intel is excited to continue our tradition of leadership for wired connectivity solutions. Thunderbolt is now the mainstream port for connectivity on mobile PCs, and delivering the next generation of performance with Thunderbolt 5 will provide even more capability for the most demanding users."
Intel says we will start seeing Thunderbolt 5 in PCs and accessories starting in 2024. One important thing to note is that Thunderbolt 5's release does not mean Thunderbolt 4 is going away. We will keep seeing new machines and accessories launching with both standards for the foreseeable future. This is likely because the majority of Thunderbolt 5 upgrades are meant for advanced users and professionals. It is the reason we will probably see only premium and expensive machines launch with Thunderbolt 5 which will not be purchased by the majority of the customers.