Headlines
Rent-a-Girlfriend Season 3 Episode 6 Recap and Ending, Explained
In 'Kanojo, Okarishimasu' 3rd Season or 'Rent-A-Girlfriend' season 3 episode 6 titled 'Final Scene and Girlfriend,' Kazuya and Chizuru finally reach their destination and start scouting for locations, so that they can have the final shoot. It turns out that Chizuru has been keeping a secret about her family which she finally reveals to Kazuya. Meanwhile, the duo feels a bit unsure and awkward as they have to stay together in the room the entire night because Mini deliberately booked just one room for them. Here's everything you need to know about the ending of 'Kanojo, Okarishimasu' 3rd Season 'Rent-A-Girlfriend' season 3 episode 6. SPOILERS AHEAD!
Rent-a-Girlfriend Season 3 Episode 6 Recap
After their arrival in the city, Kazuya and Chizuru head to the hotel where they learn that Mini has just booked one room for them. Kinoshita recalls Yaemori telling him that this was his only chance, so he is not surprised that she went so far as to ensure that the two of them end up sleeping next to each other. However, he wants to book another room so that he does not make Chizuru feel awkward about the entire setup.
Interestingly, Chizuru does not want to waste any money and leads him to the room that they have booked. Soon afterward, they go out hunting for locations so that they can have the perfect final shot. When they have fixed their eyes on a location, the duo takes a few practice shots and heads back to the hotel. Chizuru wears traditional clothes after taking the bath, which makes Kazuya feel really strange.
However, he manages to handle himself and focuses on the shooting. As Chizuru sees him working hard, she recalls something that her grandfather had told her many years ago. When they later go for the final shoot, Chizuru reveals that her grandfather always wanted to see her become an actress. But he died in an accident a few years ago. Then she decided to make sure that she does make his dream come true at least in front of her grandmother.
Chizuru had felt that even this dream will fail since her grandmother was not well, but thankfully Kazuya stood by her side to make it possible. In order to express her gratitude, Chizuru gave her everything in the final shot while Kazuya was moved to tears after learning the emotional trauma she has been carrying in her heart.
Later that night, Kazuya sleeps as soon as he reaches the room while Chizuru struggles as she recalls her grandfather's prophetic words that she will find someone who will stand by her like a rock. The following day, the duo check out from the hotel and headed to the station on a bus. Chizuru ends up falling asleep on Kazuya's shoulder.
Rent-a-Girlfriend Season 3 Episode 6 Ending: Does Ruka Find Out About Kazuya And Chizuru Staying Alone?
When the bus finally reaches the station, Kazuya finally musters the courage to wake Chizuru up. She has been sleeping on his shoulder so far and Kinoshita felt too shy to say anything. After they get off the bus, the duo has barely walked a few steps when they find Ruka walking towards them. It turns out that she had been suspicious of Kazuya ever since they had their last call, which is why she confronted Mami.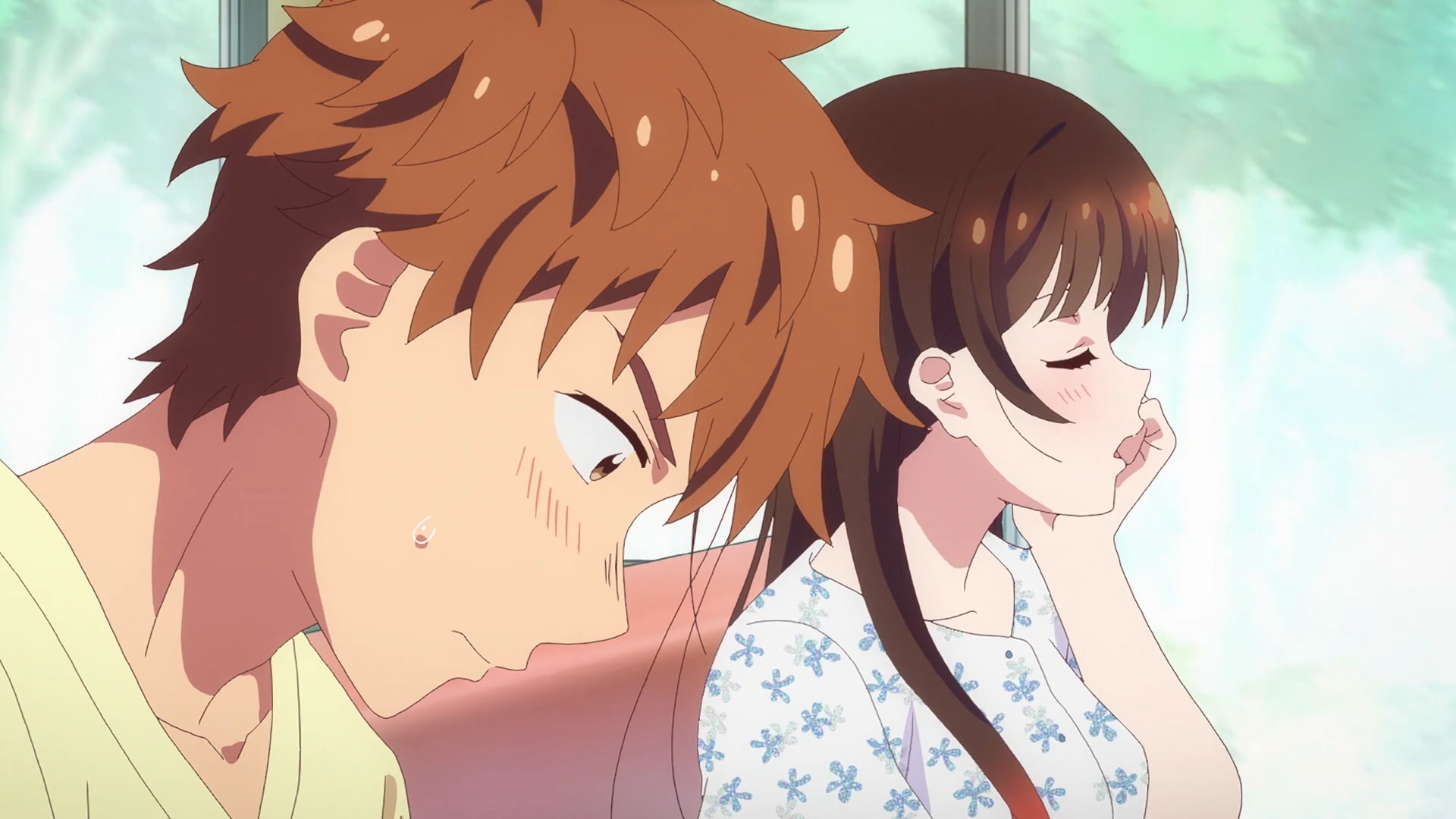 When Yaemori was pressured, she ended up spilling the beans, which is how Ruka actually learned about what has been going on behind her back. She feels that her boyfriend and Chizuru probably had sex, so she checks them for any love bites. But she does not really find anything that proves her theory. Chizuru makes the excuse that she has to go to the bathroom, where she recalls sleeping on Kazuya's shoulder and feeling embarrassed. Meanwhile, Kazuya is trying to defend himself and convince his girlfriend that they were in the city only for the shoot.
Ruka is understandably upset, but then she tells her boyfriend that she wants something for him. It turns out that her birthday is coming and she wants Kazuya to make a promise. She wants to give him to give her anything she asks from him that day and he cannot say not her. Naturally, Kazuya is quite confused but he is obviously in a position where his girlfriend can get really mad at him. So he is probably going to eventually agree to her condition and only time will tell what Ruka expects from him.
Read More: Rent-a-Girlfriend Season 3 Episode 5 Recap and Ending, Explained