Headlines
Rent-a-Girlfriend Season 3 Episode 9 Recap and Ending, Explained
In 'Kanojo, Okarishimasu' 3rd Season or 'Rent-A-Girlfriend' season 3 episode 9 titled 'Parting and Girlfriend,' Kazuya tells Mizuhara that she should tell her grandmother the truth about their relationship. Mizuhara feels that it would be incredibly stupid to do something that hurts her when she is on her death bed. Kazuya organizes the premiere of Mizuhara's debut film in grandmother Sayuri's hospital room. Mizuhara gets overwhelmed by emotions as she tries to decide whether she should tell her the truth or not. Here's everything you need to know about the ending of 'Kanojo, Okarishimasu' 3rd Season 'Rent-A-Girlfriend' season 3 episode 9. SPOILERS AHEAD!
Rent-a-Girlfriend Season 3 Episode 9 Recap
As grandmother Sayuri fights for her life in the hospital, Mizuhara sits next to her and thinks about Kazuya's words. He wants her to tell grandmother Sayuri the truth about his relationship with Mizuhara. But looking at the present situation, Mizuhara feels that doing something like that is incredibly stupid. She does not intend to give Grandmother Sayuri any more pain than she is already in. However, Mizuhara is also well aware of the fact that she is betraying her by not being honest with her.
Although Mizuhara had initially felt that Kazuya's request made no sense, she started to get confused as she thought more about it. Interestingly, Kazuya suddenly barges into the room and sets up a projector. It turns out that he has arranged for the premiere of Mizuhara's film right in Grandmother Sayuri's hospital room. As he walks out, the film starts playing. Although grandmother Sayuri is in a critical state, she still manages to watch 10 minutes of the film. 
After she goes back to sleep again, Mizuhara starts crying as she is still unsure about telling her the truth. She has somewhat managed to fulfill the dream she has been after, but betraying Grandmother Sayuri continues to eat her alive. As she starts weeping, her grandmother wakes up and it turns out that she has overheard her saying that she lied to her. Grandmother Sayuri's selfless love really shines through as she lets Mizuhara take the final call. She knows that it's really hurting her, so she makes sure that Mizuhara knows that she is going to be okay with whatever decision she takes. 
Rent-a-Girlfriend Season 3 Episode 9 Ending: Is Grandmother Sayuri Dead? How Does Kazuya Wish to Comfort Her?
The day after that, Kazuya meets Mini in the park and tells her what has happened. She cannot stop crying after learning that Mizuhara has also lost the only person she has. The incredible weight of loneliness that she has been carrying in her heart has now increased many times. Mini feels that Kazuya needs to be with Mizuhara much more now since she will need all the emotional and moral support that she can get. But Kazuya is unsure. He recalls the previous night and realizes that her neighbor is far stronger than he has ever imagined.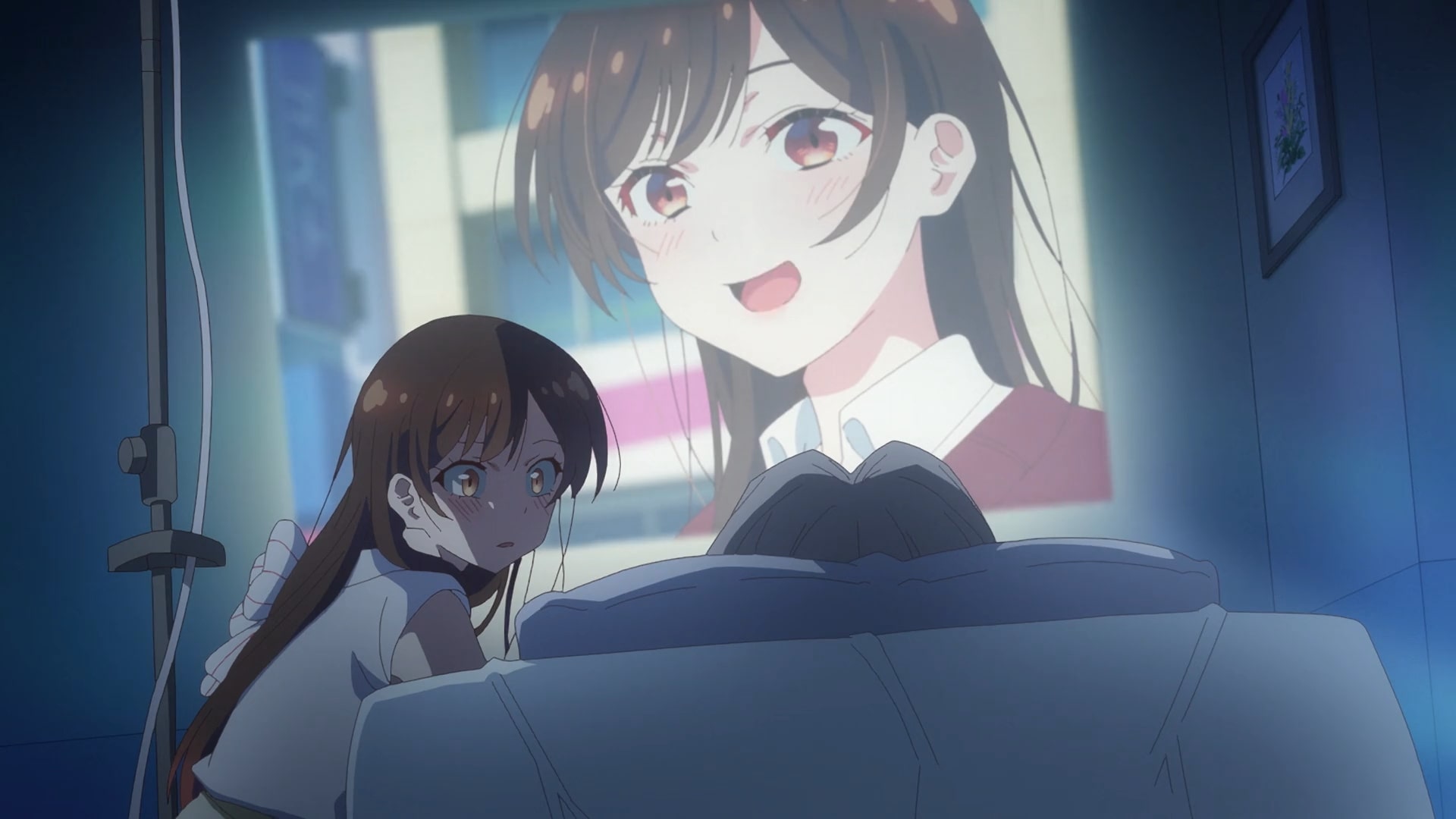 Despite facing the worst crisis in her life, Mizuhara told Kazuya with a smile that she was fine. She remained stoic during the small conversation that they had and even told him that she would organize the wake the following day. Later, Kazuya and grandmother Nagomi visited Mizuhara's house for the funeral. The duo are quite impressed with Mizuhara's resilience who remains stoic even that day. This just goes to show her strength of character and reminds Nagomi of her friend Sayuri. Since she is obviously too emotional, she makes an excuse and leaves soon afterward.
Before going, Grandmother Nagomi tells Kazuya that he as Mizuhara's boyfriend needs to play a much better role in helping her recover from her present crisis. Unfortunately, Kinoshita is unsure what he needs to do. Since Mizuhara has shown no need for any help until now, he does not know how he should be approaching the present situation. At his apartment, he thinks deeply about his next move but struggles to come up with any meaningful ideas. Eventually, he decides to hire her as his rental girlfriend, probably planning to help her take her mind off her problems. 
Read More: Rent-a-Girlfriend Season 3 Episode 8 Recap and Ending, Explained