Technology
WhatsApp Will Soon Introduce Third-Party Chat Interoperability With Other Platforms
WhatsApp is reportedly working on third-party chat interoperability. The popular WhatsApp beta tracking website, WABetaInfo, has revealed the latest development. While the publication shared a screenshot, the page appears empty. However, it indicates that the feature is currently in the works and will be rolled out in a future WhatsApp update. Third-party chat interoperability means users of other chat platforms will be able to message WhatsApp users without having to create an account. Let's take a look at the new feature and what it means. 
WhatsApp Will Soon Bring Third-Party Chat Support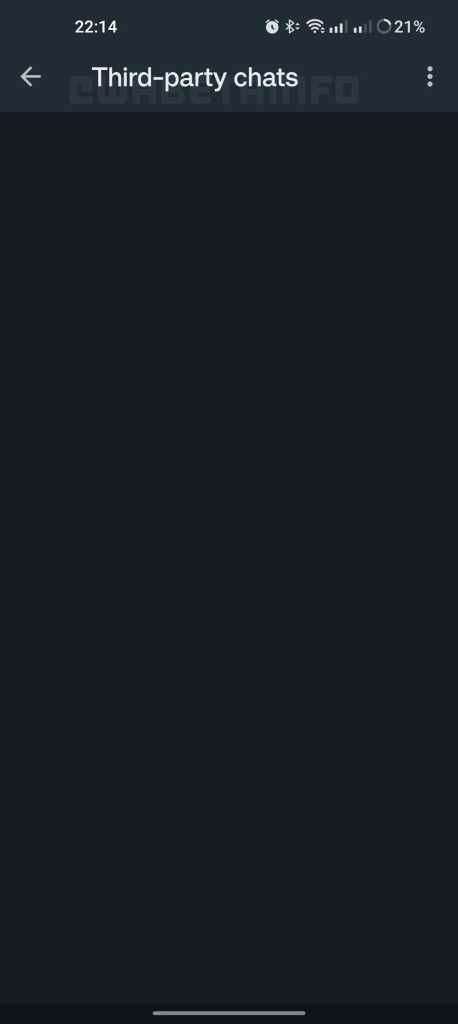 As you can see in the screenshot above, WhatsApp will soon have third-party chat support for its users. The page appears to be empty and inaccessible to users since it's currently under development. However, the publication reveals that the feature will roll out soon, at least in Europe. WABetaInfo also notes that, as of now, it's not clear whether the feature will also be available in other regions.
This is because the European Union has passed the Digital Markets Act (DMA). The act is intended to impose strict regulations on large tech companies to allow users to communicate with each other using different platforms. The Meta-owned messaging platform falls within the DMA criteria as a gatekeeper service by virtue of being a large tech platform with a massive user base. According to WABetaInfo,
WhatsApp has 6 months to comply with the new European regulations to offer interoperability services, at least in the European region.
For the uninitiated, interoperability means non-WhatsApp users can text WhatsApp users. It means those who stick to Telegram or other chat platforms will be able to message WhatsApp users from their app without having to create a WhatsApp account. This benefits smaller platforms to exist and survive within the instant messaging industry.
However, it raises a question about the end-to-end encryption that WhatsApp takes pride in. The end-to-end encryption safeguards user privacy by limiting user interaction between the sender and recipients. With third-party chat support, WhatsApp will have to work on a way to preserve the encryption. Currently, there is not much detail on how it will work, but WABetaInfo states that Article 7 of the DMA regulation states that users will have the option to get out of the interoperability as and when it rolls out.
We will know more once the feature rolls out officially to users. WhatsApp will likely roll out the feature in a phased manner in the coming days.