Technology
Zebronics ZEB-Juke Bar 1000 Soundbar with Dolby Atmos Launched in India: Price, Specifications
Zebronics has launched a new soundbar ZEB-Juke Bar 1000 aimed at buyers looking for an affordable offering. The best part is that it is not just a soundbar on a budget but it also supports Dolby Atmos. This is the reason the company is touting it as the most affordable soundbar with Dolby Atmos in India. Here is everything you need to know about its features and price.
Zebronics ZEB-Juke Bar 1000 Price and Availability
The Zebronics ZEB-Juke Bar 1000 is priced at Rs 9,999 in India. It is an introductory pricing and eventual price details are under wraps. It is also unknown for how long this special price will be effective.
The newly released soundbar is available for purchase on Amazon India and Flipkart. It is available in Black colour as you see with any other soundbar.
Zebronics ZEB-Juke Bar 1000 Features
The Zebronics ZEB-Juke Bar 1000 is a 2.1 channel soundbar system. It can deliver a total output power of 150 Watt RMS. If we talk about specific details, its dedicated sub-woofer with 5-inch size can deliver up to 90 Watt RMS output and the soundbar with dual drivers can deliver up to 60 Watt RMS output.
The unique thing about the soundbar is undoubtedly Dolby Atmos support. It will allow users to enjoy a more immersive experience while watching their favourite movies and TV shows. Another good thing is that it is wall-mountable which will help you save precious space in your room, table, or shelf.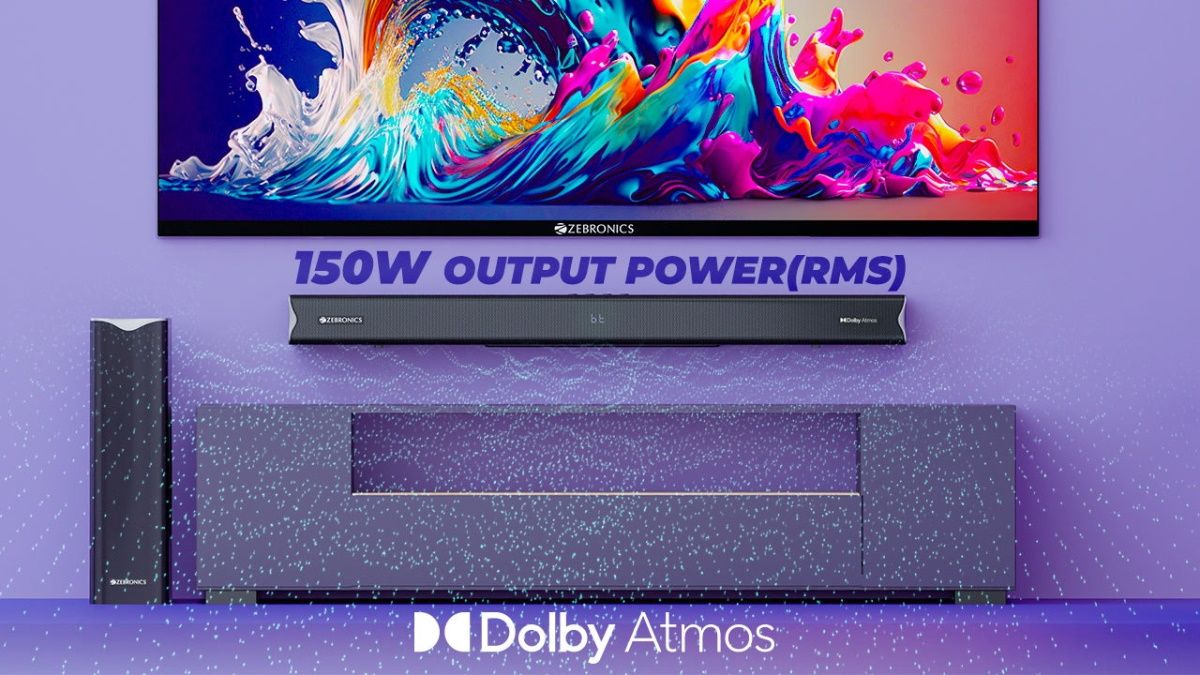 The soundbar has an LED display that will show relevant information like the volume level and sound mode. There are volume buttons at the top along with power and source buttons. It comes with a premium glossy finish for thosPe who care about the looks of devices in their room.
You get multiple connectivity options with the soundbar. It offers Bluetooth 5.3, Optical-in port, AUX input, HDMI (eARC), and a USB port. There is also a remote control that comes bundled with the package.
Zebronics ZEB-Juke Bar 1000 Specifications:
2.1 channel soundbar with Dolby Atmos
150 Watt RMS total output
90 Watt RMS output (woofer)
60 Watt RMS output (soundbar)
LED display
Wall mountable
Volume and power controls
Bluetooth 5.3, Optical-in port, AUX input, HDMI (eARC), and a USB port